From future presidents to Nobel laureates, many famous personalities such as Albert Einstein attended school in Switzerland. However, in addition to outstanding grammar schools and universities, the Swiss education system also includes higher education programmes in hundreds of professions that enjoy an excellent reputation. For foreigners and cross-border commuters, it is important to understand the specifics – for example, what is meant by the term "dual education system"?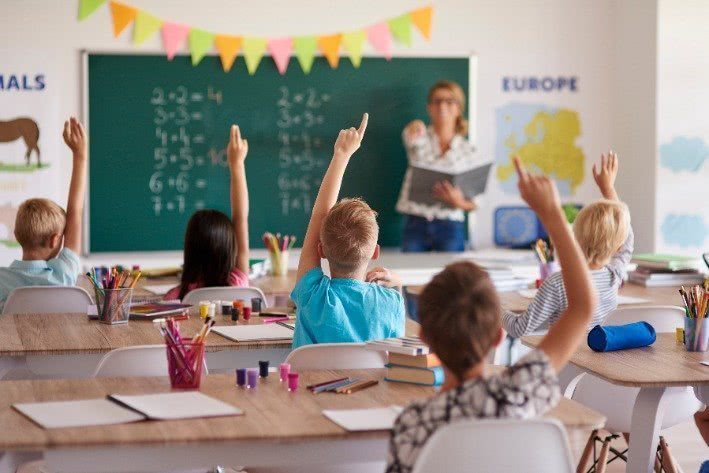 Private schools and elite boarding schools like Le Rolley on Lake Geneva repeatedly make international headlines. Le Rolley is among the world's most expensive and exclusive private schools. However, the broader Swiss education system is fundamentally supported by the public sector and is organised on a cantonal basis. A large pool of expertise underpins the state schools and their curricula across the 26 cantons. In other words, the Swiss school system promises a very high-quality education from primary school right through to college and university.  
In most cantons, school attendance is compulsory after a child's fourth birthday. School starts the following August when the children are between four and five years old. Compulsory schooling in Switzerland normally lasts for 11 years. In most cantons, this includes two years of kindergarten, followed by a total of nine years of primary school and lower secondary school. 
The Swiss education system – federal and cantonal responsibility 
The Swiss cantons ("member states" in other countries) have a high degree of autonomy with regard to the curriculum and the structure of the different academic tiers. In most German-speaking cantons in Switzerland, children from the age of four begin school life with two years at nursery school (Kindergarten) followed by six years at primary school. In French-speaking Switzerland, on the other hand, the first phase is divided into Cycle 1 and Cycle 2 (for children aged 4 to 8 and 8 to 12 respectively).  
The overwhelming majority of children and youngsters in Switzerland attend public schools – over 95 per cent! Swiss public schools do not charge fees. In some cases, foreigners living temporarily in Switzerland send their children to private schools. Private schools with an international focus can predominantly be found in Geneva and the canton of Zug, but similar establishments exist in many other cantons. Depending on the chosen school, English is often the main teaching language. 
School in Switzerland – language of tuition 
In Swiss public schools, the language of tuition depends on the official language of the respective regions. In different parts of the country, Swiss schoolchildren are taught in German, French, Italian and even Romansh. Foreign languages are highly valued in the Swiss education system. Most children and young people learn English and at least a second national language.  
What should I bear in mind when enrolling my child? 
School enrolment and registration must be completed in the child's place of residence or at the responsible municipality. Anyone who settles in Switzerland as a foreigner is obliged to register with the competent municipal authority (municipality of residence/residents' registration office). In parallel, all school-age children must be reported to the school authorities. The name of the competent authority or school administration varies depending on the canton and municipality. It is also customary for parents to register for an interview – this is also the ideal opportunity to ask any questions about their child's start to school life.  
Compulsory schooling in Switzerland usually comprises: 
Eight years spent at primary school (including nursery school). The children are aged 12 or 13 when they leave primary school.  
This is followed by three years at a lower secondary school until the age of 15 or 16.  
Lessons in lower secondary school include the relevant national language, usually two foreign languages, mathematics, science, geography, history, drawing/design, music, home economics and sport.  
In the Swiss education system, compulsory schooling is followed by the so-called upper-secondary level ("Sekundarstufe II"). At this stage, numerous options are open to the youngsters: 
A vocational apprenticeship:
An apprenticeship in a training company combined with one or two days of teaching per week at a vocational school. This path is very practice-oriented and seen as direct preparation for a successful career entry. In some cases, apprentices are kept on at the company after graduation. 
Cantonal school or grammar school:
This path results in a secondary school-leaving certificate known as the Matura (equivalent to the "Abitur" in Germany). The Swiss Matura gives graduates virtually free access to all cantonal universities and the two federal institutes of technology (ETH) in Zurich and Lausanne. 
Secondary technical school:
These general upper-secondary schools teach subject matter and specialist knowledge in areas such as health, education, social affairs, etc. They prepare students for access to higher technical colleges or universities of applied sciences (UAS). These schools offer a wide variety of study programmes at the tertiary level, including social sciences, health, economics, construction and technology, computer science, art, communication, linguistics, architecture and engineering, and many more. At the universities of applied sciences, it is possible to graduate (usually after three years) with a Bachelor's degree, or after two more years with a Master's degree. During one's studies, it is common to complete an internship to gain practical experience. 
Dual education system
Around two thirds of young people at upper-secondary level choose a path of basic vocational training (apprenticeship), for example in carpentry, business, retail, IT, health, medical, hairdressing, floristry, etc.
"Depending on their origin, some families from abroad hold the prejudiced belief that an apprenticeship is a second choice and only for pupils with learning difficulties," says Alexander Gerlings from the Conference of Cantonal Ministers of Education (EDK). It is often forgotten that this so-called dual education system with its focus on basic vocational training enjoys an excellent reputation. Over 240 vocational apprenticeships are open to students in Switzerland, covering all kinds of subjects. The synthesis of practical activity in a training company with school-based expertise leads to a high level of competence. The vast majority of Swiss vocational education and training graduates are in high demand in the job market.
A key element of the Swiss education system continues to be transferable skills. This approach ensures that many opportunities for further education, additional diplomas and thus higher qualifications are open to youngsters and young adults alike. Anyone who completes a vocational apprenticeship or graduates from a secondary technical school can subsequently complete a course of study at an advanced technical college or a university of applied sciences (via the vocational baccalaureate or specialised baccalaureate route). In addition, these students can even apply to universities and federal institutes of technology (ETH) via a short bridging course known as a passerelle.
Universities and higher vocational education
The tertiary level in Switzerland comprises the cantonal universities, the federal institutes of technology, the previously mentioned universities of applied sciences and the training colleges for the teaching professions. A second important pillar of the tertiary level is advanced vocational education and training (VET). Anyone with practical experience and a recognised upper-secondary level VET qualification can prepare to apply for demanding specialist or managerial roles by completing an advanced VET programme. Qualified individuals can choose from around 450 vocational and higher professional examinations in the Swiss education system, including, for example, construction manager, training manager, various types of operations manager, pension fund manager, human resources manager, etc.
These courses enable young people to acquire in-depth specialist knowledge and additional qualifications, e.g. in the field of business management. Higher vocational education and training in Switzerland includes degrees from higher technical colleges, federal diplomas and federal certificates of professional competence. Overall, 45 per cent of adults achieve a tertiary degree, of whom 30 per cent complete their initial education with a diploma from a university, and 15 per cent with an advanced vocational diploma.
Strengths of Swiss schools 
A number of overarching principles characterise the Swiss education system. It is largely based in the public sector and is free of charge – there are no school fees during the period of compulsory schooling. And higher education at universities or technical colleges is generally available with comparatively modest tuition fees. In any case, in Switzerland it is possible to have a "school career" that is completely independent of one's family background and financial means. The principles of public accessibility, transferability and equal opportunities are given a very high priority. 
Slightly different rules apply to continued education and training (CET). A highly diverse range of offerings is emerging here, both in terms of funding and sponsorship. While the federal government and the cantons stipulate certain framework conditions, the actual providers and sponsors of CET programmes are predominantly based in the private sector. Accordingly, continuing vocational education at private colleges also involves significantly higher costs than, for example, compulsory schooling or study programmes at public universities. 
Recognition of diplomas 
Experience suggests that qualified people with diplomas, practical knowledge and further training have very good opportunities in the Swiss job market – including as specialists and managers. But what about the recognition of foreign diplomas? It is well known that skilled workers are in great demand in many sectors and fields (buzzword: "shortage of skilled workers"). The extent to which foreign diplomas are recognised depends largely on the individual case. "The basic rule is that diplomas related to regulated professions must be recognised," says Alexander Gerling. This applies by and large to the professions with strictly regulated qualifications and access requirements. For example, for doctors, the nursing professions, psychotherapy, teachers or for certain professions in the technical or legal field, etc.  
Firstly, there is the question of jurisdiction. The very first point of contact is always the State Secretariat for Education, Research and Innovation (SERI). There you will also find a detailed list of different industries, diplomas and the respective responsible bodies. https://www.sbfi.admin.ch/sbfi/de/home/bildung/diploma.html
The hurdles are not so high when it comes to non-regulated professions. According to Alexander Gerling, it also comes down to the question of a free labour market and, ultimately, to which applicant an employer chooses. Therefore, anyone working in marketing, website design, sales or administration does not necessarily need to hold a diploma issued in Switzerland.  
Outlook 
Due to stricter requirements and major changes (digitisation, automation), recruits must have excellent qualifications and undergo constant further training. In recent years, more young people have tended to complete higher education at the tertiary level than in the past. While criticism of an "overly-academic approach to training" is already emerging in other countries, this is hardly an issue in Switzerland. Of course, the transition time between graduation and starting a career varies – depending both on the industry and the additional qualifications acquired during training. However, by and large, an investment in a first-class education and excellent training will certainly pay off. 
School and education system in Switzerland: 
https://www.edk.ch/de/bildungssystem/beschreibung
https://www.edk.ch/de/bildungssystem/kantonale-schulorganisation/schulstrukturen
https://bildungssystem.educa.ch/de
https://eacea.ec.europa.eu/national-policies/eurydice/national-description_en
Example of school enrolment: 
Canton of Zurich: 
https://www.zh.ch/de/bildung/informationen-fuer-schulen/informationen-volksschule/schulinfo-schule-migration/schulinfo-einschulung-neuzugezogene.html
Canton of Aargau: 
https://www.ag.ch/de/bks/kindergarten_volksschule/unterricht_schulbetrieb/schule_interkulturelles/aufnahme_zugewanderte/aufnahme_von_neu_zugewanderten.jsp
Information on vocational guidance in Switzerland: 
https://www.berufsberatung.ch/
The portal contains a wealth of information on all training and professions. 
For more information on emigrating to Switzerland, click on the following links: