Reach potential buyers and tenants through social media
Social Media Booster gives you the possibility to promote your property on the most important social media channels, together with the publication on newhome.ch and the activation of the booster.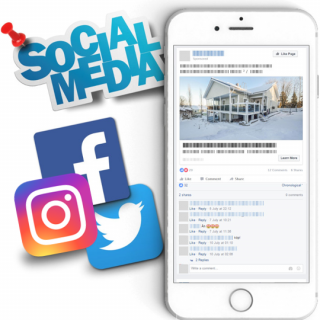 Our algorithms daily analyze hundreds of thousands of data points on newhome.ch to understand the behavior of users who search, and also ensure that your social media advertising is shown only to people clearly interested in similar properties (than the one you advertise) or the appropriate behavioral profile.
For each campaign, through Facebook, Instagram and Twitter, we reach several thousand people who have a high level of affinity and could be interested in your property..
Services:
Data analysis on newhome.ch
Evaluation and comparison of user profiles on Facebook, Instagram and Twitter
Mailing with Social Media Booster activation function
Image / text adaption possible
Live Dashboards and Stats
Access management for owners
Duration: 10 days
Impressions: Ø 4000* on Facebook, Instagram, Twitter (not guaranteed)
Prices per package
| | | |
| --- | --- | --- |
| Mini | (5 x SMB) | CHF 495 (CHF 99 per Booster) |
| Small | (10 x SMB) | CHF 940 (CHF 99 per Booster) |
| Medium | (50 x SMB) | CHF 4200 (CHF 84 per Booster) |
| Large | (100 x SMB) | CHF 7400 (CHF 74 per Booster) |
All prices in CHF excluding VAT. We reserve the right to make changes.