"Tiny Houses" is the name of a new movement in the USA in response to high property prices and an acute lack of space in cities. International designers and architects are presenting new designs for small domiciles with the goal of reducing the high consumption of resources, land and energy. True to the motto: less is more.
So what exactly are "Tiny Houses"? The term was originally coined in the USA. The American architectural scene set the movement in motion, which has since been fuelled by the vision of a more sustainable society. The German website http://www.tiny-houses.de quotes the scholar Leonardo da Vinci: "Small rooms or dwellings direct the mind to the goal, large ones distract it."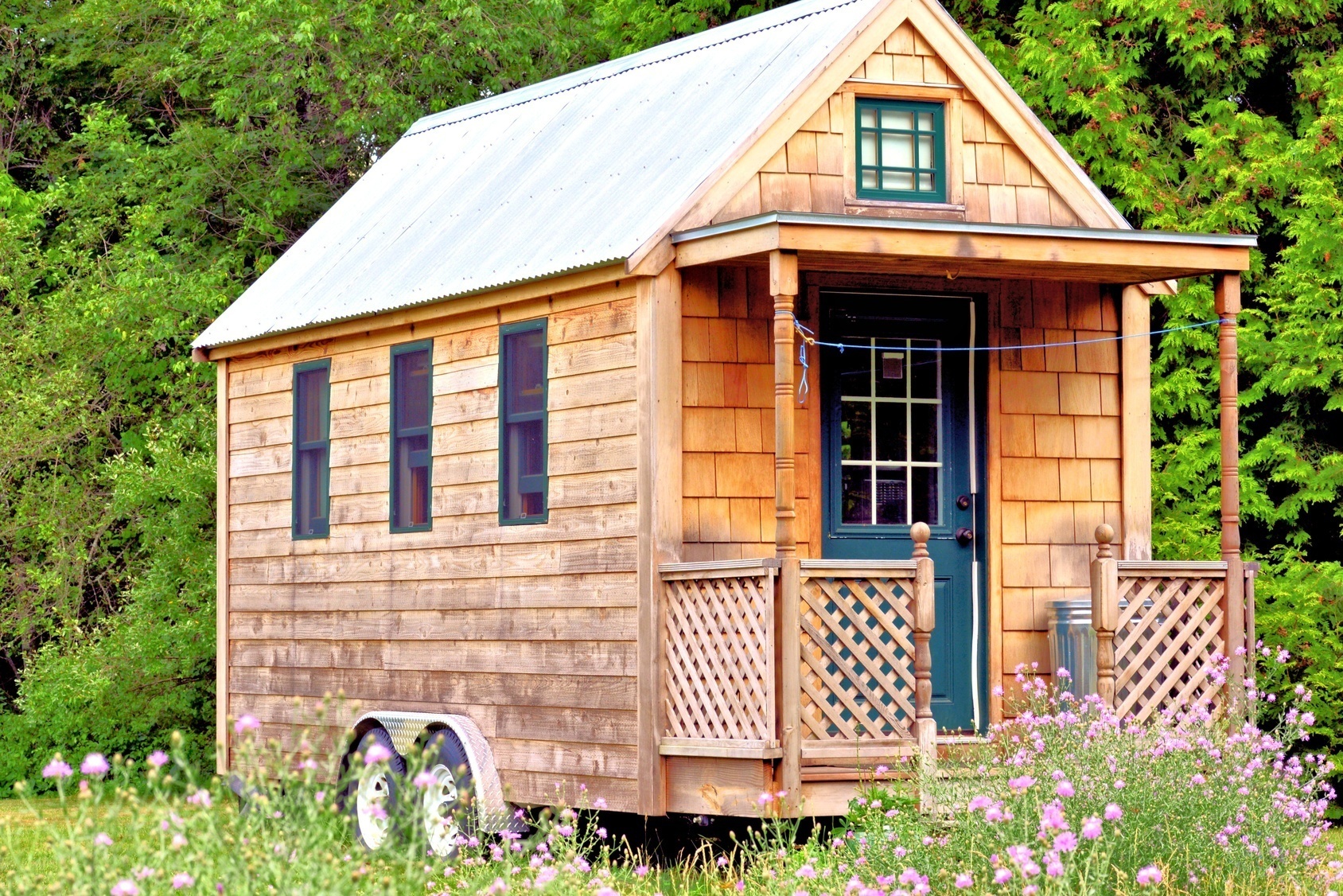 Tiny Houses: mobile small houses for individualists. (Image: fotolia)
For their own personal happiness, each person wants a nice space in which to live, sleep, cook and eat. But how much space do we really need? What is the minimum acceptable size of an apartment today? In a nutshell, this is the key issue surrounding "Tiny Houses", and it is also a question that has been preoccupying architects and city planners for decades. Of course no one wants to go back to the situation a century ago, when people lived in confined spaces in cramped tenements, with large families typically sharing two or three tiny rooms with several sub-tenants.
However, the concept of reduction is now back on the agenda. And in almost all Western countries, population growth, scarcity of land and often prohibitive rents require new answers. The trend towards small apartments or mini-houses made from pre-fabricated elements is currently in fashion in the USA, Germany and Japan. In the course of this discussion, a number of quite different names crop up — "Tiny Houses" (as mentioned), but also "urban cabins", "mini-houses", "micro-houses", etc.
Tiny Houses: a history
The Tiny Houses vision has a long history. As early as the 1920s, American inventors worked to combine the mobility of the car with the comfort of their own home. This resulted in the first motorhomes — tiny houses built on wheels.
The Japanese architect Kisho Kurokawa presented a completely new design for modern living in cities in 1972. Built in Tokyo, the Nakagin Capsule Tower consists primarily of modules that were prefabricated in a factory. The tower has 13 floors and stands 54 metres high; at its base are conventional office spaces and, above these, industrially produced residential modules are installed on 11 and 9 floors respectively. The design principle: the capsules are relatively small, but are easy to disassemble and replace. They are also flexible, since the inhabitants or owners have the option to connect the modules together and combine them into larger units as desired. This creates an economical way to overcome the problem of scarce resources such as land and living space.
Loftcube: trendy and mobile
The German design professor Werner Aisslinger submitted a courageous proposal in 2003. His mobile living cube, called the "Loftcube", has a floor area of 39 square metres. Impressively, this mini-domicile looks smart but does not incorporate any more space than absolutely necessary. In addition, the design of the "Loftcube" makes it easy to move, transport and set up elsewhere. Incidentally, Aisslinger's train of thought opens up many other interesting perspectives.
In cities, for example, you can simply place the residential cube in a previously unused space, such as the flat roof of an existing building. This makes it quick and easy to build a city loft for smaller households, which are increasing in number. All that remains is to provide a power and water connection — and if it is no longer needed a few years later, the "Loftcube" is just as easy to remove.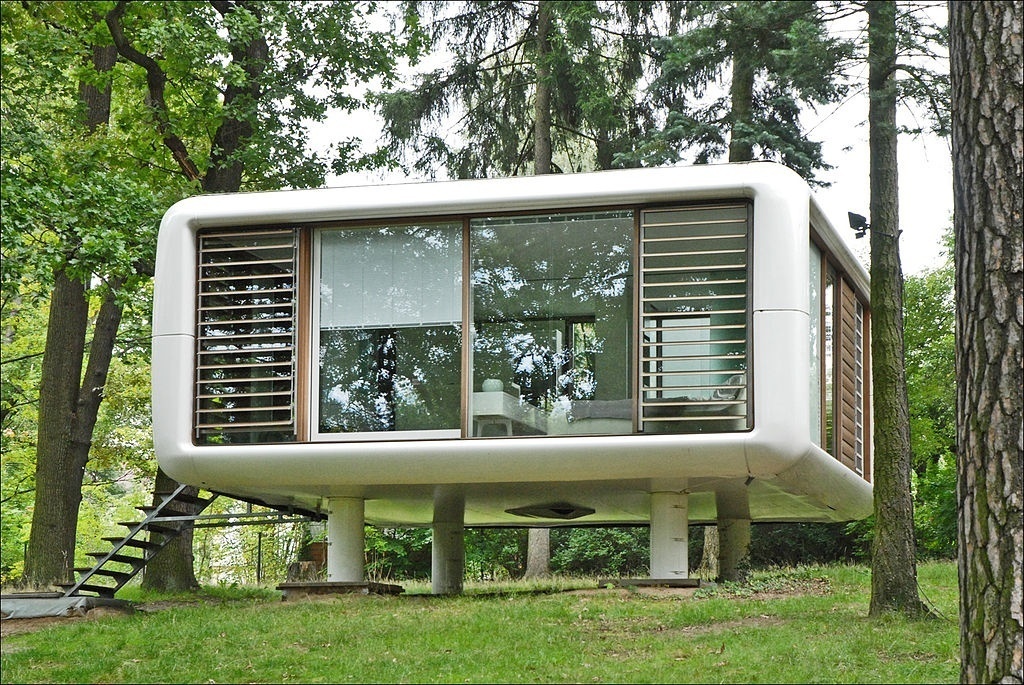 Loftcube by Werner Aisslinger: a vision of the mobile living spaces of tomorrow. (Image: wikimedia)
The world of "Tiny Houses" includes many other designs. Recently, for example, an innovation from the Dutch design office DUS Architekten, whose "Tiny Houses" go even further in terms of reduction, met with a great response — their design 3D Printed Urban Cabin has already been realized as a mini-domicile in Amsterdam. With a total floor area of just eight square metres, the small house is surrounded by a small garden and even an outdoor bathtub. The Dutch are combining the "Tiny Houses" approach with state-of-the-art production methods (the house is produced using a 3D printer and consists of recyclable bioplastic). This mini-house is suitable for overnight stays and temporary use.
Tiny Houses: Inspiration for your project!
Even if the architects' visions go too far for some people, the approach of reducing the floor space is entirely justified. After all, the Swiss residential population has converted higher wages and rising purchasing power into a proportionately higher consumption of living space.
Therefore, before you build a house or buy a new apartment, consider the following question: how much living space will you really use productively and meaningfully over the building's entire useful life? Often, for example, families plan rooms and areas that are later not needed. And consider this also: the ultimate cost driver for an apartment or house is its size and floor area! As a rule of thumb, for a typical detached house, construction costs of around 4,000 Swiss francs per square metre must be budgeted for. And as any homeowner or financial expert knows, the building's floor area ultimately costs money not only at the time of construction, but also during operation — and throughout its entire useful life. For example, by making your dream home 20 square metres smaller, you will save a lot of money in the long term. Not only is the financing significantly cheaper, you will also save on maintenance, operating and energy costs.
Tiny Houses: Swiss Made
As a rough estimate, there are several hundred thousand plots in Switzerland that already have enough space for an outbuilding in addition to the existing dwelling. Therefore, why construct new buildings "on the green meadows" when there is enough room for consolidation on existing developments? One answer to such fundamental questions is the Smallhouse design. The slim, modern-looking residential cube was designed in 1999 by the Swiss company Bauart Architekten und Planer AG. The base area is only 4.4 by 11 metres. Nevertheless, the Smallhouse offers an impressive 74 square metres of net living space — which is roughly equal to a typical three-room apartment in a conventional apartment building.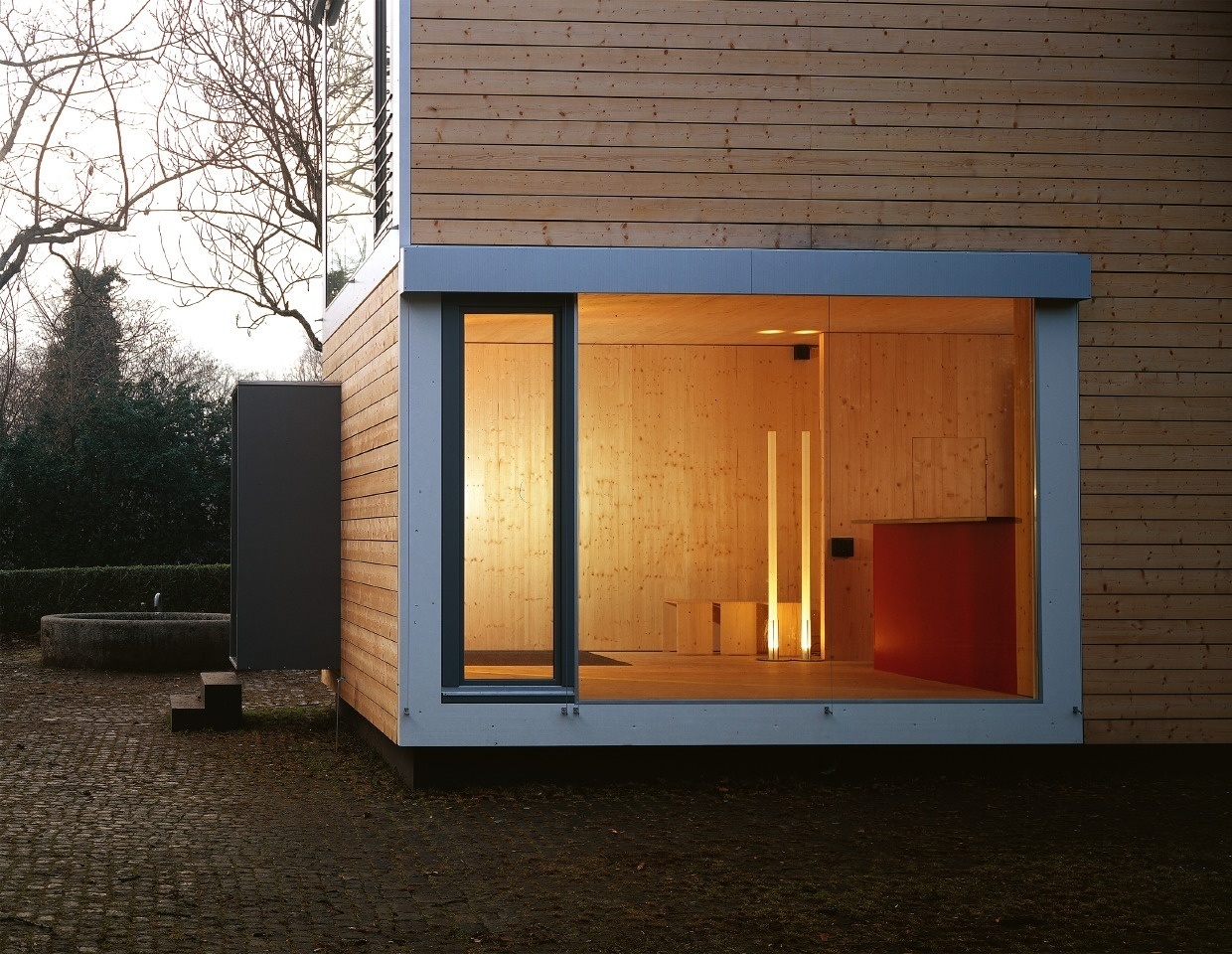 Fits on almost any building plot: Smallhouse by Bauart Architekten und Planer (Image: Bauart AG)
Smallhouse made of wood
The Smallhouse design features wood elements with a ventilated larch formwork façade. The interior surfaces are made from solid spruce wood — the prefabricated wood elements are assembled at the construction site. This method has several advantages, including short construction times, the use of sustainable materials and a high degree of precision. The basic model is equipped with two floors and four large windows facing in all four directions. However, the element-based construction method permits different variants, for example as a direct attachment to existing buildings, a free-standing version with a gable roof or a version consisting of multiple modules arranged side by side. The design, which dates from 1999, has been honoured with numerous awards.
Today, the company koppmarcelbaut gmbh from Täuffelen owns the licence for the Smallhouse and acts as a realisation and distribution partner throughout Switzerland. The company from the Bernese lakeland region has adapted the living cube to meet current requirements and standards. The design, however, remains based on the underlying concept of creating housing with a low consumption of land and resources. "The idea of 'Stöcklis' [Swiss term for small outbuildings used as dwellings] is also important to us," says Marianne Kopp from koppmarcelbaut. Due to the narrow building structure and the flexible adaptation and expansion options, the Smallhouse is suitable for all kinds of building plots — for example, as an addition to an existing, older house with a large garden.
Tiny Houses: What does a house cost?
For the younger or perhaps older members of the home-owner's household, the addition of their own, custom living cube is an ideal way to expand the available living space. The cube's façades, windows and building envelope are of high quality and meet the requirements of building and energy laws. The building envelope (wood construction including windows, flat roof, plumbing work) is attractively priced at around 192,000 Swiss francs.
However, it is important to consider that more than just the building envelope is required. "The other modules, such as wet rooms, kitchen, services, heating system, etc. depend entirely on the client's wishes, but must be factored into the total cost," says Marianne Kopp. In addition, planning and preparatory work, the necessary work on the terrain, i.e. supply lines, development, excavation, if necessary a basement or foundations as well as public charges are billed separately. The Smallhouse is undoubtedly inexpensive; but in most cases the total costs including expansion are likely to be around 350,000 to 450,000 Swiss francs.
Conclusion: for many people, their house or apartment is central to their lives and decisive for their well-being. However, it is now high time that the public debate about the size of these "happy homes" was intensified. The international "Tiny Houses" movement can be a source of inspiration here.
The Swiss Smallhouse with sustainable wood-element design (image source / colour concept: atelier sandra richard / 3D visualisation: pixelschmiede)